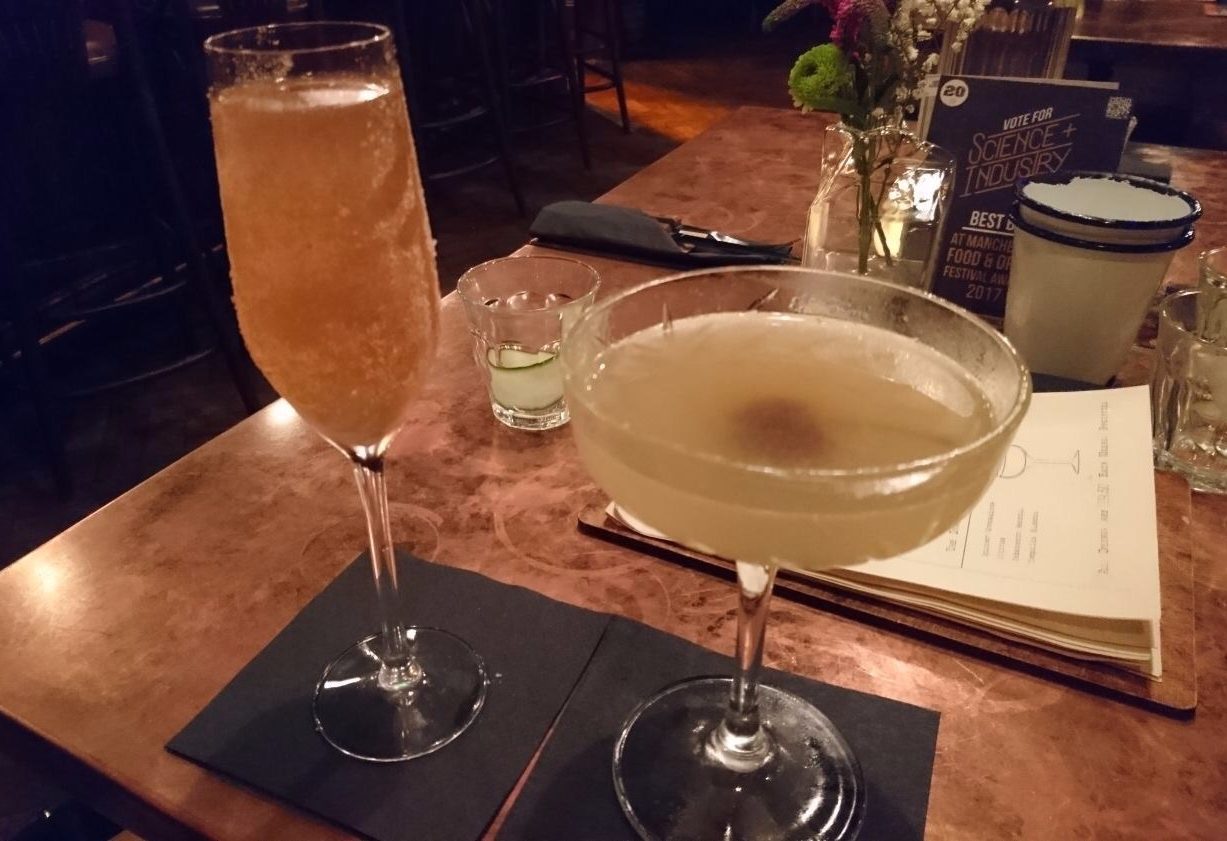 What a thrill it is to walk out of what LOOKS to be a simple shopfront onto the street, after having sipped on sweet cocktails, smiling to yourself and your drinking companions at the secret you share – one that nobody else walking along the pavement know about.
That's the awesome thing about hidden speakeasy bars – they add an extra element of fun to a social outing.
On a recent visit to Manchester to meet with my boyfriend Dan's wonderful family, we all headed out for a day mission in the city: To find as many secret bars as possible, and to drink as many new cocktails as we felt like.
And boy, did we have fun!
First up we headed to The Washhouse, which is obviously located it Manchester, but I'm keeping my lips sealed on just where it is.
Tucked away behind the front of a laundrette, this bar is an absolute gem – the cocktails are fun and imaginative, the staff super helpful, and atmosphere deliciously dark – making you feel even more coy about the secret spot you've managed to locate.
My first cocktail was the #instagramthis, which came with an embossed hashtag and "garnished with a selfie".
How cool! I got a cocktail and a cute photo of me and Dan to keep – winning!
Oh, and of course it tasted great too, with a summery feel over the vodka base.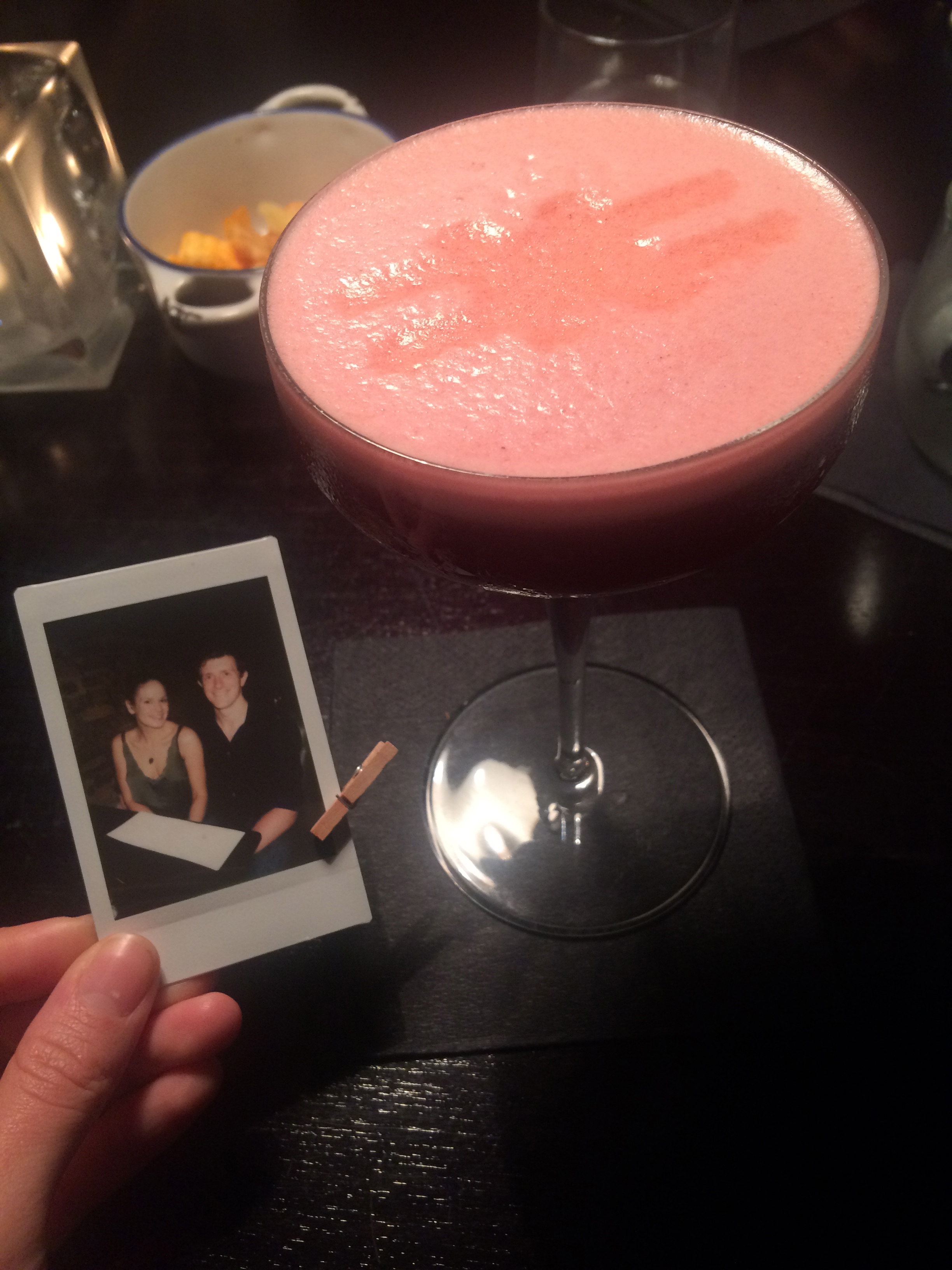 My second cocktail there was the Fear and Loathing, which is definitely a cocktail for lovers of spicy things – there's a lot of Jalapeno going on in that glass!
I personally loved it, and found the heat was balanced perfectly with the mango juice blended in.
I've definitely never tasted such an inventive cocktail in my life!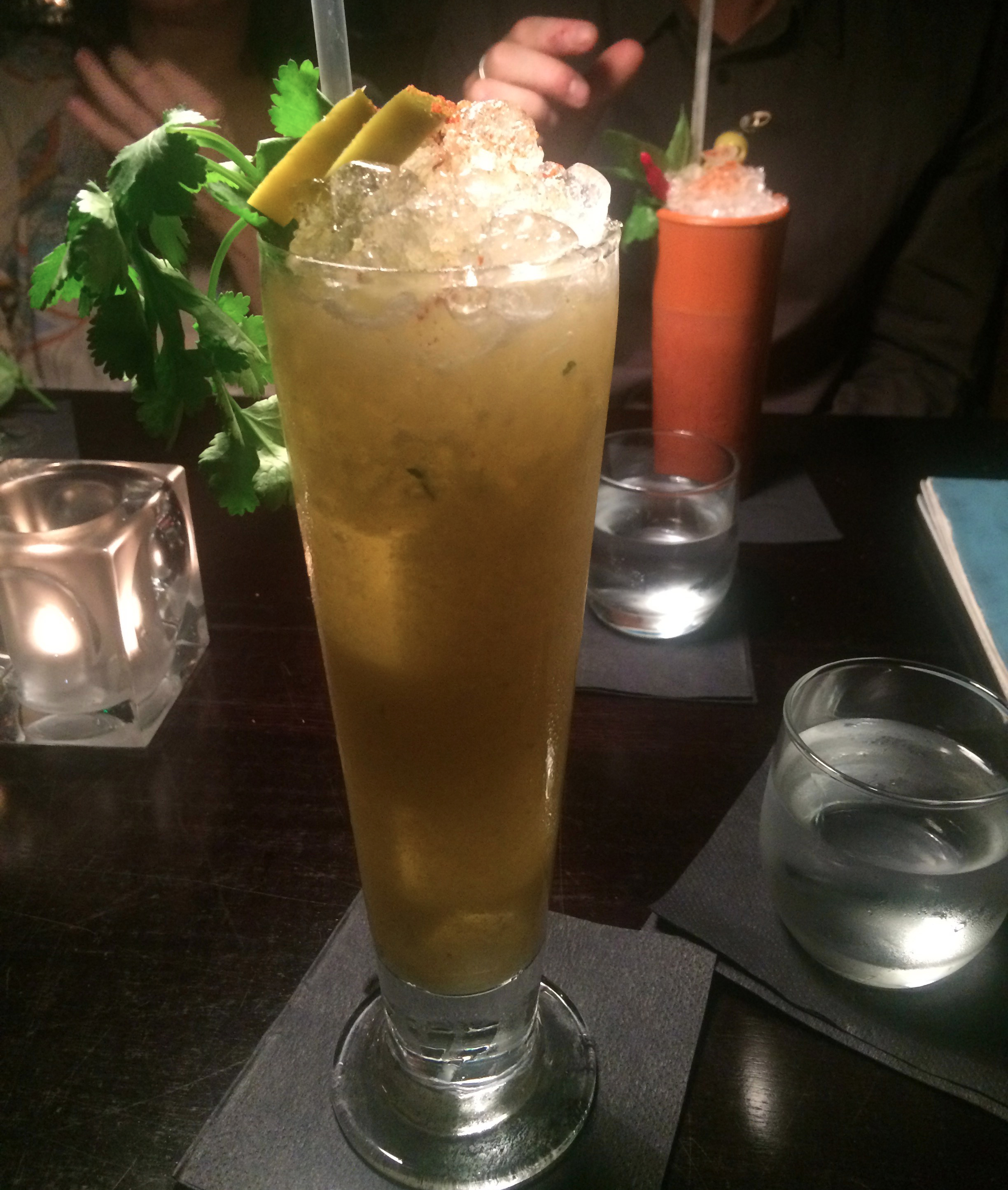 Following on from The Washroom, we visited a couple of other not-so-secret bars, including MOJO, a rock 'n' roll-themed cocktail bar and US-style diner, where I introduced Dan to my all-time-favourite cocktail (but certainly not as inventive as the last two from that day), an espresso martini.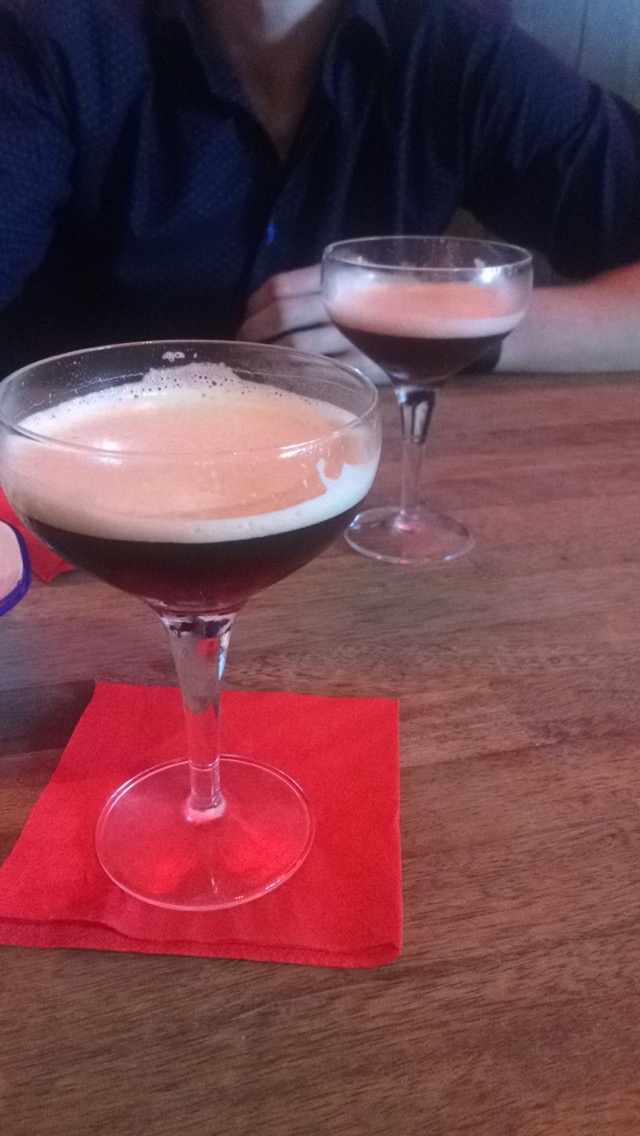 Visiting our second hidden bar of the day, we headed to Cane and Grain where we found the secret door into their level-two speakeasy bar.
Another hidden gem with a fantastically decorated interior, drinking in here makes you feel as though you're part of a very exclusive 'hush-hush' club.
My first cocktail was the Suffragette City, a fresh-tasting champagne and vodka cocktail with hints of fruity Prosecco, finished off with a sugar-covered glass.
No, not just the rim, the entire glass.
Wine lovers, this one is for you – just watch your hands, they're going to get sticky.
My second cocktail at Cane and Grain was the Negroni Ristretto, an excitingly prepared (with dry ice and all!) coffee inspired cocktail.
For lovers of Amaretto or orange/chocolate pairing, this one will soothe your tastebuds.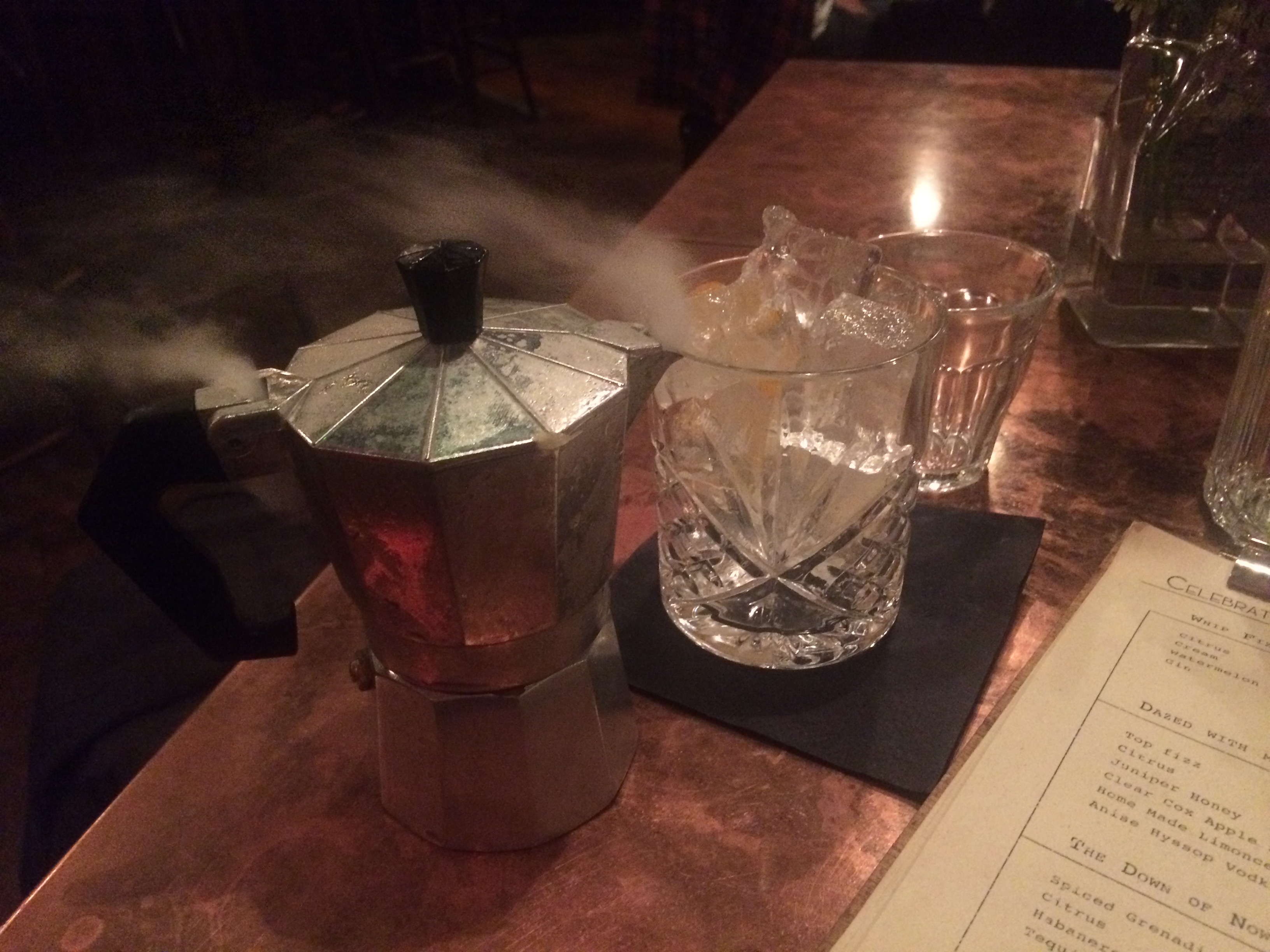 To finish off the evening, we headed to Dusk til Pawn, a prohibition-chic lounge with a pawn shop storefront.
I ordered a Pawnstar, a passionfruit cocktail served with a side of sorbet. Yum!
Certainly a refreshing way to end the night.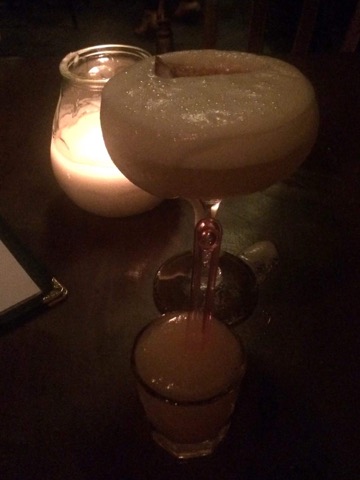 Finding these three hidden cocktail bars in Manchester (with such good company too!) was a fantastic experience.
I never even knew there was such a thing as hidden cocktail bars, but now that my eyes (and tastebuds) have been opened to them, I can't wait to go on the hunt for more.
If you have any suggestions around the UK, let me know! Just the name though, not the actual location – half the fun of the experience is finding the place 😉